US Attorney Representation Service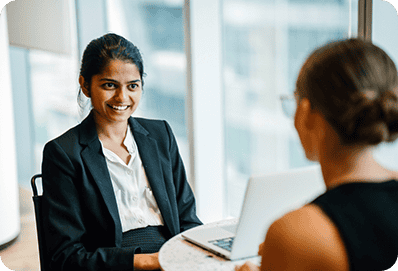 Our Platinum gives you access to our exclusive premium features, and we'll be there to assist you every step of the way. With our Attorney Representation Service, you'll receive personalized legal support from an experienced immigration attorney. We'll work together to ensure your U.S. citizenship journey is smooth and successful.
Once you subscribe, we will pair you with a skilled immigration attorney who will thoroughly review your Form N-400, the Application for Naturalization, ensuring its accuracy and optimizing your chances of approval. Our goal is to minimize any potential delays or issues.
During your biometrics appointment, your attorney will accompany you, providing expert guidance and reassurance during this critical step of the naturalization process. We want you to feel confident and at ease throughout the entire experience.
You won't face it alone when it's time for your citizenship interview and exam. Our immigration attorney will stand by your side, preparing you for potential questions and instilling confidence in your responses. We'll do everything we can to ensure you have a successful interview.
Our commitment to you doesn't end with the interview. 0ur attorney representation service will support you through every step until your oath ceremony, ensuring you are fully prepared for this momentous occasion. And to further communicate our endless commitment to you, we'll celebrate this special moment with you as you become a U.S. citizen.
At Citizenship Selfie, we understand the significance of becoming a U.S. citizen, and we have thoroughly designed our Platinum Plan with Attorney Representation Service to offer you more than just legal guidance. It provides a trusted partnership and expert support, empowering you on your path to U.S. citizenship. Let our exceptional Attorney Representation Service turn your dream of becoming a U.S. citizen into a reality. We're here for you every step of the way.
Need More
Guidance

?
Talk to us!
We're here to support you in every step of the way. Don't hessitate in getting in touch with us using the contact form!