US Immigration Legal Services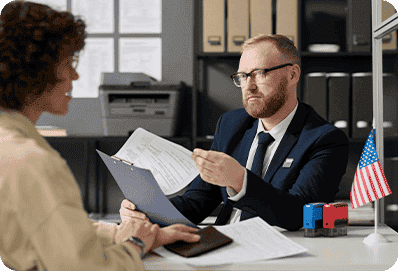 At Citizenship Selfie, we understand that every step matters, which is why our dedicated "US Immigration Legal Services" are designed to be your steadfast partner on this transformative path. Backed by seasoned immigration attorneys, our services encompass a comprehensive spectrum of legal expertise to ensure a smooth and successful immigration process.
Legal Know-How Tailored to Your Needs
The U.S. immigration system is renowned for its complexity, requiring precise legal navigation. Our "US Immigration Legal Services" are meticulously crafted to address diverse immigration goals and challenges. Whether you seek family-based immigration, employment visas, or permanent residency, our team of experienced attorneys is equipped to provide expert guidance every step of the way.
Comprehensive Services We Offer
Immigration Consultation: Begin your journey with a thorough consultation. Our attorneys will assess your unique circumstances, explain available options, and chart a strategic path forward.
Application Preparation: Trust us to meticulously prepare and review your application. Our attorneys ensure that all necessary documentation is accurate, complete, and adheres to legal requirements.
Petition Filing: From family petitions to employment-based visas, we skilfully handle all aspects of petition filing, optimizing your chances of success.
Navigating Complex Cases: Our seasoned attorneys specialize in complex cases, including waivers, appeals, and removal proceedings, providing strategic legal representation to safeguard your rights.
Green Card and Citizenship Applications: We guide you through the intricacies of green card and citizenship applications, ensuring a seamless transition to permanent residency or U.S. citizenship.
Legal Guidance for Investors: For those seeking investment-based visas, we provide comprehensive legal counsel, assisting you in achieving your investment immigration goals.
Removal Defense: If facing deportation or removal proceedings, our attorneys vigorously defend your rights and pursue available legal remedies.
Personalized Support: Our team offers compassionate and personalized legal support, alleviating the stress of the immigration process and keeping you informed at every stage.
Why Choose Our US Immigration Legal Services?
At the core of our service lies a team of seasoned immigration attorneys equipped with profound insights into U.S. immigration laws and regulations. We ensure optimal outcomes by crafting strategies that are meticulously tailored to your individual circumstances. Our track record speaks volumes, having guided countless clients toward their immigration aspirations.
With a commitment to transparent communication, our ethos emphasizes ethical and professional conduct, ensuring your case is handled with the utmost integrity. Embracing diversity, our services are offered in a range of languages, celebrating and respecting the unique preferences of each individual.
Embark on Your Immigration Journey with Confidence
Our US immigration legal services provide the cornerstone of your immigration journey. With our unwavering legal support, you can navigate the complexities of the U.S. immigration system, overcome challenges, and reach your desired destination. Let us be your legal partners in turning your immigration dreams into reality. Contact us today to begin your transformative journey toward a brighter future in the United States.
Need More
Guidance

?
Talk to us!
We're here to support you in every step of the way. Don't hessitate in getting in touch with us using the contact form!